The Thursday Report – November 7, 2013 – $5.34m/$14k/UF LLM 2.21.14 TPA Conference
Updated Estate Tax Charts including the new $5,340,000 Exemption Amount
Seminar Spotlight of the Week – UF LL.M. Tax Institute Program Details – Attend One or More of Wednesday, Thursday and/or Friday, February 19 – 21,

2014 in Tampa and Win a Bucket of Kentucky Fried Chicken to Share with 5 of your Favorite Friends.
HIPAA Changes 2013 by Anita Ramirez
Phil Rarick's Informative Blog – Florida Guardianship Quick Reference Guide
Lemmings to the Sea
We welcome contributions for future Thursday Report topics. If you are interested in making a contribution as a guest writer, please email Janine Gunyan at Janine@gassmanpa.com.
This report and other Thursday Reports can be found on our website at www.gassmanlaw.com.
Updated Estate Tax Charts including the new $5,340,000 Exemption Amount and the new FICA/FUTA Limit of $117,000
We now know formally that the estate tax exemption will increase from $5,250,000 to $5,340,000 on January 1, 2014.  Gifting next year can therefore be based upon $14,000 per recipient plus $90,000 plus whatever the client has left of their exemption amount.
Also, set your calendar to get with clients three years after they have filed their 2012 gift tax return if you did not use all of their exemption amount but reported discounts that would do so.  If you do not know what the above means and you have wealthy clients call someone who does!  The client will appreciate it and the someone who does will really appreciate it.
Please let us know if you would like a Microsoft Excel version of any of the below charts.  Please feel free to use them in your practice.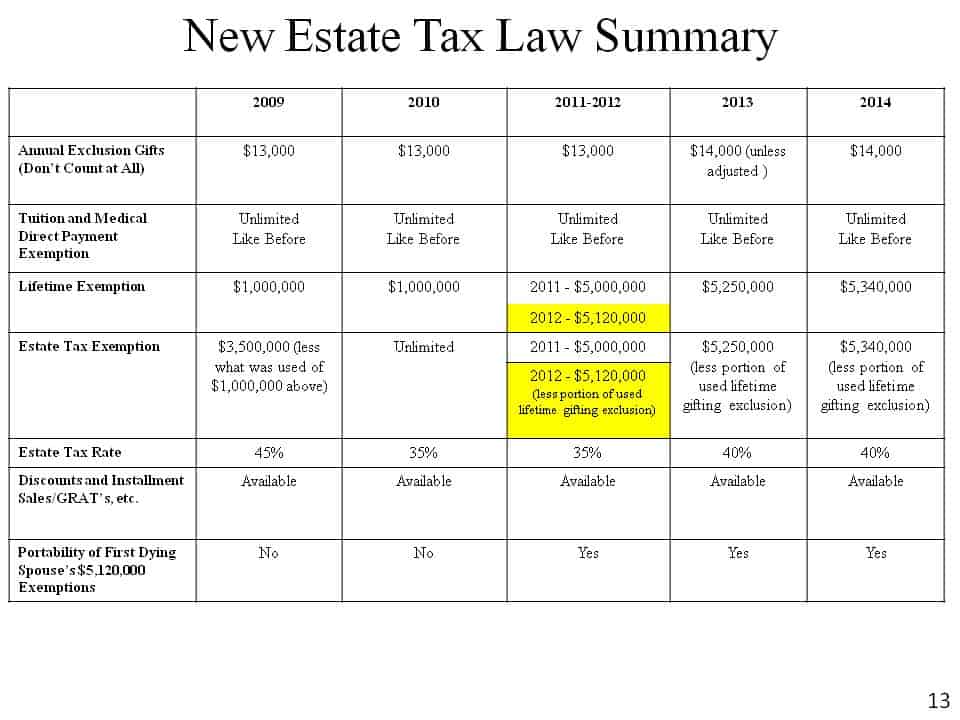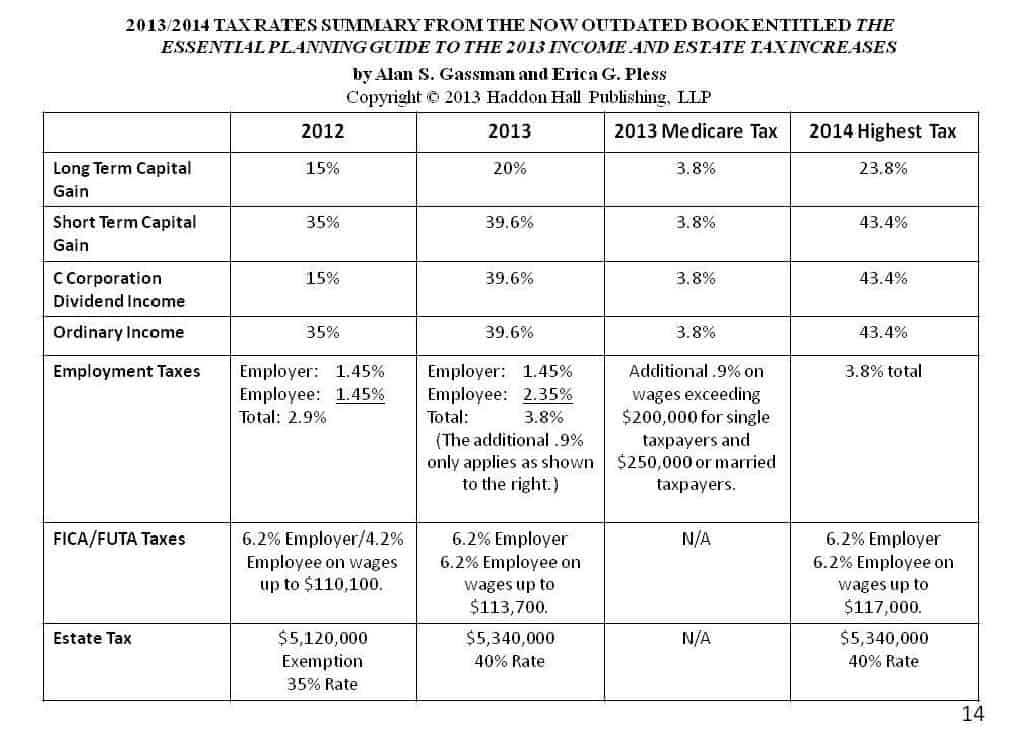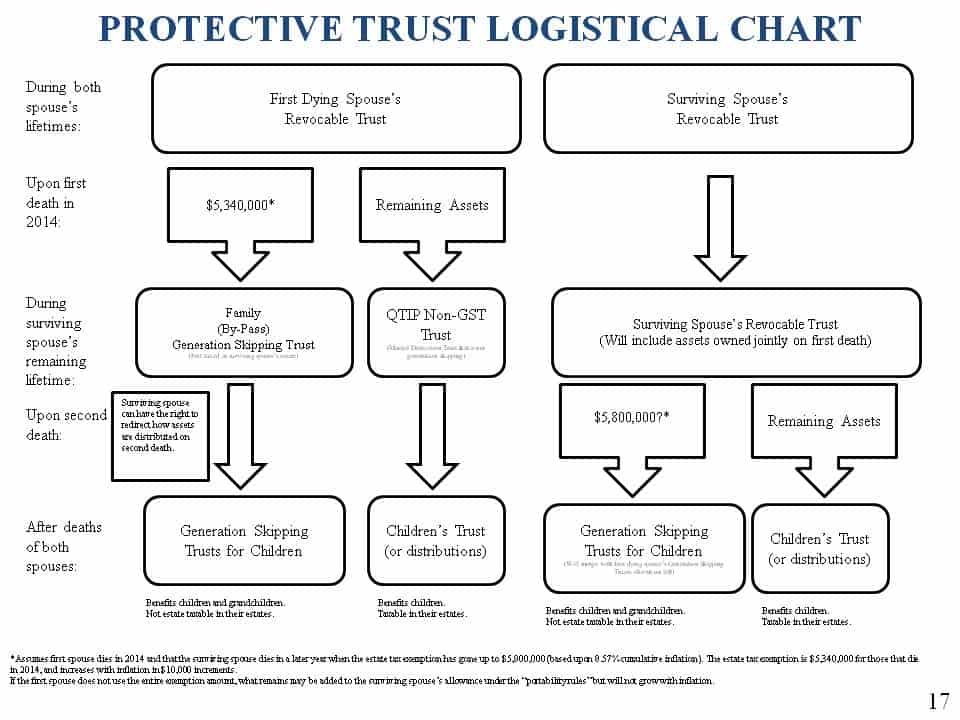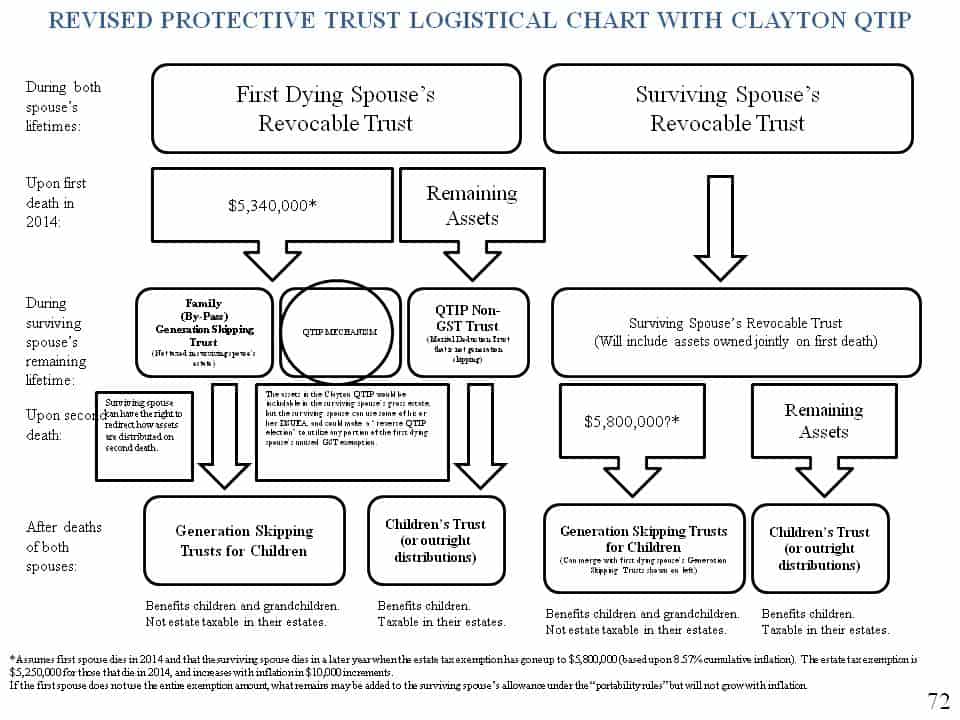 The above chart is an updated version of our SCGRAT chart which describes an idea that can be used if you want to use a self-cancelling installment note and are concerned about whether the service would require it to be valued based upon a willing buyer/willing seller standard.  This is derived from materials and lectures in the past by Stacy Eastland.  We welcome any and all questions, comments and suggestions with respect to this.
Please join Jerry Hesch, Larry Katzenstein, Ed Wojarnoski, Alan Gassman and Kenneth Crotty for the Bloomberg BNA Webinar Planning with Self-Cancelling Installment Notes and Private Annuities: Don't Get Burned and give us your questions, comments and suggestions on planning with self-cancelling installment notes and private annuities.
If you would like to attend the webinar please click here to register.  If you are unable to attend but would like a copy of the materials please email Janine@gassmanpa.com
Be there or be a quadrilateral!
 Seminar Spotlight of the Week
University of Florida Tax Institute Announced
Make Sure to Mark Your Calendar for One or More of Wednesday, Thursday and/or Friday, February 19 – 21, 2014 and Win a Bucket of Kentucky Fried Chicken to Share with 5 of your Favorite Friends
The long awaited announcement of details about the University of Florida Tax Institute that will be held in Tampa, Florida on the above dates was transmitted by the announcement that you can review by clicking here.
Estate Planners can attend the Friday morning half-day session which will include talks by Steve Leimberg of Leimberg Information Services who will speak on Marketing an Estate Planning Practice, Conference Chair Lauren Detzel and David Pratt who will speak on Formula Clauses: A-Z, and the number one tax and estate planning humorist Professor Samuel A. Donaldson from the University of Georgia who will provide an estate planning tax law update and jokes far superior to anything you will ever read in a Thursday Report.  Vests optional – lets chip in a buy this guy a jacket!

Many of us will also attend the Wednesday and Thursday sessions which will include UF Tax Law Professor Martin J. McMahon, Jr. on Current Developments in Income Taxation, a panel discussion on Current Developments in International Taxation led by Professor Lawrence Lokken, Louis S. Weller of BryanCave, LLP on Current Issues in Section 1031 Exchanges and Peter J. Genz of King & Spaulding, LLP on Debt Workouts.
There is a welcome reception on Wednesday evening and a University of Florida Foundation reception also open to all attendees on Thursday evening.
The program will be held at the Grand Hyatt Tampa Bay and rooms can be reserved now at the very reasonable rate of $219.  This is the Hyatt that has the wonderful Armani's restaurant on the top floor with a spectacular sunset view from the bar and outdoor observatory.  Nothing could go better with fried chicken!
Best of all, we will have a booth at the program and will be giving out buckets of Kentucky Fried Chicken to lucky Thursday Report readers who win our contest by (1) contributing to the Thursday Report between now and February 19, 2014, (2) attending this conference, and (3) to be determined.
We will also be providing complimentary training sessions and free 15 month software subscriptions to our ever improving estate tax and installment sale software calculation and illustration program.  Further details on the software and an immediate download can be obtained by emailing estateview@gassmanpa.com.  An instructional webinar entitled Estate Trek: The Next Generation of our EstateView Planning Software that lasts only 20 minutes can be viewed by clicking here.
If you have a dual screen computer please consider putting the software on the left side and watching the webinar on the right side.  If you are left handed only or only read Hebrew you can reverse that.  We have a federal grant under which we are studying this possibility.
You can be adept at using this software at under 15 minutes (which is .3 of an hour if you are counting billable time).
We applaud Lauren Detzel and the members of her committee for all of their hard work in making this tax conference a new and successful part of estate planning and tax education in Florida and for their support of the University of Florida LL.M. in taxation program.  Lauren can be reached at LDetzel@deanmead.com.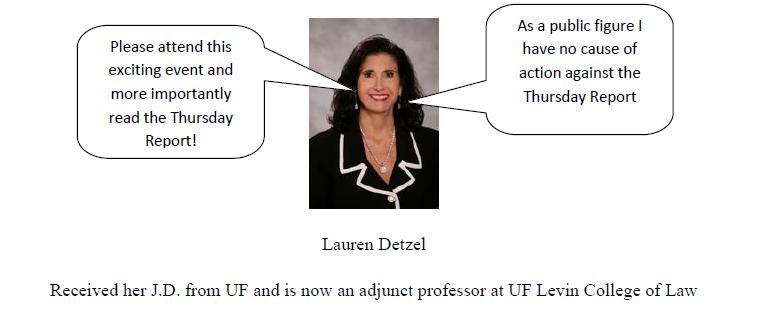 HIPAA CHANGES 2013



By Anita Ramirez

Anita Ramirez is the president of AER Consulting, Inc. and has over 35 years experience in health care management.  She has provided services to physicians in analyzing existing practices, identifying and rectifying problem areas, and new practice start-ups.  Ms. Ramirez has also functioned in the trenches as a clinic administrator overseeing marking, personnel, finance and administrative operations.  She has been featured in several local and national publications and has appeared on many local television programs.  She was on the adjunct faculty of Hillsborough Community College from 1976 to 2000 teaching courses on medical office practices and procedures; office automation, supervision, leadership training and customer service.  She can be reached at aerconsulting.aer@verizon.net.
Below is her article.
In March 2013, many changes were done to HIPAA (The Health Insurance Portability and Accountability Act).  These changes are to be implemented and made effective by all providers by September 23, 2013.  It is imperative that all providers update their HIPAA materials which include policies, procedures and forms.  HIPAA is conducting on site visits to ensure that all providers are compliant with HIPAA.
Business Associate Agreements (BA):
New BA Agreements are required.  Under the rule, the definition of a BA is broadened to generally include all entities that create, receive, maintain, or transmit PHI (Protected Health Information) on behalf of a covered entity.  This expanded definition will now cover a number of organizations that previously might not have been subject to the regulations.  This now also includes sub contractors of BAs (defined as a person to whom a BA delegates a function, activity or service); patient safety organizations, health information organizations, e-prescribing gateways and personal health record vendors.  The rule makes BAs directly liable for compliance with many of the same HIPAA privacy and security standards and requirement that practices must abide by.  BAs are also now subject to the same enforcement actions and fines as practices.
Common BAs are:  billing service, transcription services, off-site record storage and retrieval, record disposal service (shredding company), practice management software vendor, electronic medical record software vendor & ITA company.
The manual and HIPAA CD provided by AER Consulting, Inc. includes the BA agreement, the BA questionnaire, that you need to have the BA complete and return to you so that you show that you have done your due diligence in ensuring that your BA is HIPAA compliance, as well as a cover letter to use to send the new BA Agreement and Questionnaire to your BAs.
Breach Notification:
The new rule significantly revises the definition of a PHI "breach."  This revised definition makes it more likely that an inappropriate disclosure will be considered a breach and trigger notification requirements   Practices are required to notify affected patients and in cases affecting 500 or more individuals, the local media when a breach occurs.  However, this interim final rule stated that practice professionals did not have to initiate the notification process if they could demonstrate that the breach would not result in any "significant risk of harm" to the patient (reputation, financial or other harm).  This "harm standard" was modified in the omnibus rule to create what HHS calls "a more objective process for assessing whether PHI has been compromised."
Practice professionals must now assume that an impermissible acquisition, access, use or disclosure of PHI is a breach unless there is a low probability that the PHI was compromised.  To demonstrate low probability, practice professionals must conduct a risk assessment that includes the following:
•           The nature and extent of the PHI involved
•           The unauthorized person who used the PHI or to whom the disclosure was made
•           Whether the PHI was acquired or viewed
•           The extent to which the risk to the PHI has been mitigated
HHS also removed the previous breach exception for PHU in a "limited data set" that did not include patient birth dates or zip codes.
Patient Rights:
HITECH granted patients the right to a copy of their medical records in an electronic format if they were stored electronically.  Patients also have the right to ask for a list of whom their records have been given; therefore, practices must keep a log of all persons or entities that have received a patient record.
Security:
You must perform a complete Risk Assessment on a yearly basis with the report showing what needs to be corrected and a plan showing the corrections required and done.
The HIPAA manuals must have a complete set of policies and procedures for Privacy and for Security.  The one P & P that has been added and expanded is "Information system Activity Review."   This is the random audits of staff using the PHI.  The purpose of the P & P is to implement procedures that review system activity to determine if any EPHI is accessed, used or disclosed in an inappropriate manner.  Be sure to discuss this with your IT people and set up a process and logs to do this.
Job Descriptions:
Job descriptions must now include the access level of each employee for the practice software access.  There are sample job descriptions included in the material.
Yearly Training and Education:
It is recommend that providers have yearly HIPAA education retreats with the compliance officer, committee and Department Heads.  In turn the department heads can then meet with their staff and do education with their staff and document this education.  All new staff can have their HIPAA education during their orientation and training by viewing the training portion of the HIPAA CD along with the rest of their orientation.
Anita was also kind enough to provide us with the actual law she is referring to, which can be accessed by clicking here.
Lemmings to the Sea
 "People are what they wanna be, they're not lemmings to the sea" – Blink 182
This lyric from Blink 182's song "Lemmings" refers to the popular saying "like lemmings to the sea" or "don't be a lemming." This saying is a metaphor for people who blindly follow others. Many people believe this saying originated from the 1958 Disney documentary "White Wilderness." In the film, lemmings were shown jumping off a cliff into the Arctic Ocean.1 This gave the premise that lemmings will literally jump off a cliff if the lemming in front of them jumps. The film won an Academy Award for Best Documentary Feature.2
However, in 1982, the CBC program "The Fifth Estate" found that the lemmings in White Wilderness did not jump off the cliff, but were pushed off by a rotating platform operated by the Disney film crew.3 Also, the scene was not shot at the Arctic Ocean, but at the Bow River near Calgary, Canada.4 The show also discovered that a scene showing a polar bear cub falling down an ice slope was actually shot in a film studio in Calgary.5
Although Disney's lemming scene was fake, there is some truth to the lemming's behavior. Lemmings have strong biological urges to migrate when the population is too large.6 Lemmings can swim so when the lemmings come across a body of water they will try to cross it.7 If the body of water is too large for the lemmings, then many lemmings become exhausted and drown.8 This migratory behavior is the premise for the misconception of the lemming's "mass suicide."
While Disney popularized the idea of lemmings committing mass suicide, lemmings have fallen into misconceptions for centuries. In the 1530's, Zeigler of Strasbourg, a geographer, claimed that lemmings fell from the sky in stormy weather and would die out when the grass grew back in the spring.9  In the 19th century, Intuits believed that the lemmings lived in the stars and would descend to the earth during snow storms.10
The first popular culture reference to lemmings committing mass suicide is in Cyril M. Kornbluth's 1951 short story "The Marching Morons."11 In the short story, the main character uses his knowledge of lemmings migrating into the sea to save the day.12  In 1955, Carl Banks, a Disney Studio illustrator, created an Uncle Scrooge comic titled "The Lemming with the Locket."13 This comic showed a mass of lemmings jumping over cliffs.14  Three years after the Disney illustrator's comic, White Wilderness was released.
Since the Disney documentary was released, lemmings references have been dropped all over popular culture. A video game and a board game have been made in reference to falling lemmings.15 In the 2008 U.S. Senate race, the lemmings scene from White Wilderness was used in a campaign ad for Andrew Monroe Rice.16 In the music world, the lemming scene was the inspiration for Dead Kennedy's 1988 song "Potshot Heard Round the World."17 In addition to Blink 182's "Lemmings," Graham Parker makes the same reference in his 1978 hit "Don't Ask Me Questions."18 Also, the lemmings starred in a 1985 Super Bowl commercial.19
________________________
1  "White Wilderness (film)", http://en.wikipedia.org/wiki/White_Wilderness_%28film%29. (Last updated June 8, 2013).
2  "White Wilderness", http://www.imdb.com/title/tt0052389/awards?ref_=tt_awd.
3  "White Wilderness",  http://www.snopes.com/disney/films/lemmings.asp. (Last updated Aug. 19, 2007).
4  "White Wilderness (film)", http://en.wikipedia.org/wiki/White_Wilderness_%28film%29.
5  Id.
6  "Lemming", http://en.wikipedia.org/wiki/Lemming. (Last updated Oct. 7, 2013).
7  Id.
8  Id.
9  Dr. Karl S. Kruszelnicki, "Lemmings Suicide Myth", http://www.abc.net.au/science/articles/2004/04/27/1081903.htm?site=science/greatmomentsinscience, (Published Apr. 27, 2004).
10  Id.
11  "Lemming", http://en.wikipedia.org/wiki/Lemming#cite_note-13
12  "The Marching Morons", http://en.wikipedia.org/wiki/The_Marching_Morons
13  "Lemming", http://en.wikipedia.com/wiki/Lemming#9cite_note-13
14  Id.
15  "Lemmings," http://en.wikipedia.org/wiki/Lemming#cite_note-13.
16  "White Wilderness," http://en.wikipedia.org/White_Wilderness_%28film%29
17  Id.
18  Id.
19  "Lemmings," http://en.wikipedia.org/wiki/Lemming#cite_note-13
Phil Rarick's Informative Blog – Florida Guardianship
Florida guardianship is typically used in two situations – either when a person may be incapacitated or when a minor receives assets in excess of $15,000.
If a guardianship is sought because someone may be incapacitated, then typically the court sets two hearings. At the first hearing, the court determines whether the person is incapacitated; at the second, the court appoints a guardian if the person is determined to be incapacitated.
To read more on this interesting topic, please click here.
Applicable Federal Rates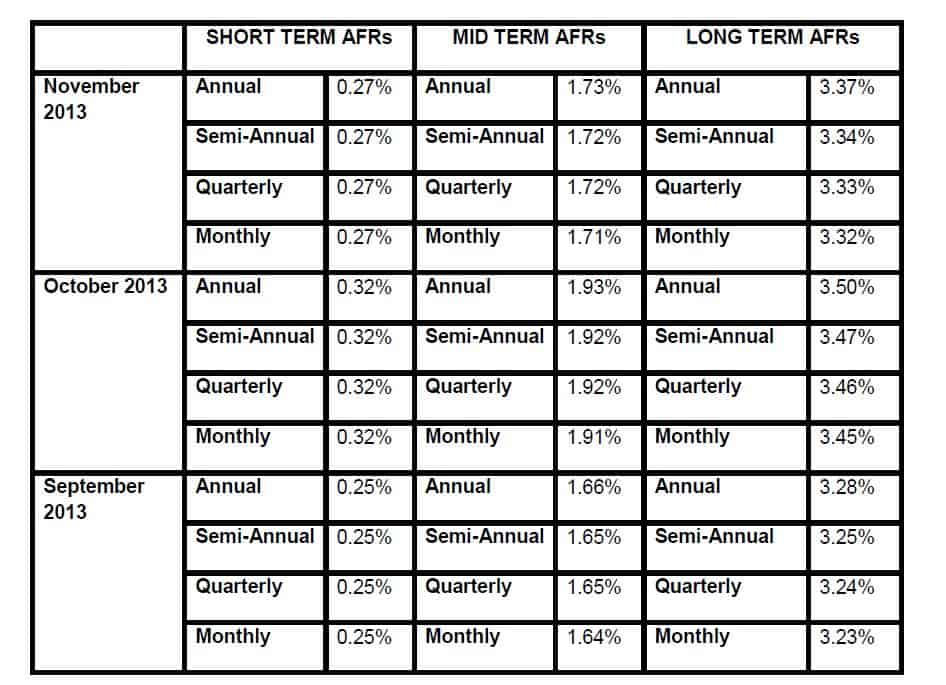 Seminars and Webinars
Would you like a copy of our Salt Lake City Estate Planning Council materials?
Alan Gassman's lectures today at the Salt Lake City Estate Planning Council seminar are as follows:
Practical Estate Planning With A $5.25 Million Exemption
Why Dentists are Different Than Doctors
Interest Free Loans
If you would like to see the materials for any of these lectures please let us know.
If you would like for Alan to speak to your group and are willing to provide 2 buckets of Kentucky Fried Chicken, a podium, a microphone, 7 cough drops and a glass of water please contact us.
Alan's auto response if you email him today is as follows:
I'm speaking on Thursday in Salt Lake City,
The content is dry yet I'll try to be witty.
The subject is taxes and planning for dentists;
I doubt that I'll see even seven Adventists.
In case I'm unable to hold you in thrall
Remember you do have the option to call (727.442.1200)
For laughing gas in case I don't let you sleep.
I'm warning you now, that it's going to get deep.
I hope that you drill me with questions all day
And yet far away from my mouth you do stay.
A mouth is a tax lawyer's weapon of choice,
His shoulders are puny, his biceps are woise,
And so pettifoggery can come in handy.
My thanks to the planners who chose this resort
I'm happier here than I would be in court.
And Florida boys ski from the time we can float,
(Though it's strange that I haven't seen even one boat).
Well, time to get going, I've plenty to say
Enough you'll have heard by the end of the day.
So much you'll have heard, and my voice you'll admire,
I'm sure I'll be picked for the Tabernacle Choir.
Or else I'll be dumped in the lake in this town
The only thing being, at least I won't drown.
SALT LAKE CITY ESTATE PLANNING COUNCIL'S FALL, ONE DAY "TAX AND DEDUCTIBILITY OF YOUR SKI TRIP" INSTITUTE
Alan Gassman will be speaking on the topic of PRACTICAL ESTATE PLANNING, WITH A $5.25 MILLION EXEMPTION AMOUNT, ESTATE TAX PROJECTION PLANNING, AND WHY DENTISTS ARE DIFFERENT
Date: Thursday, November 7, 2013
Location: Hilton Downtown Salt Lake City, Utah
Additional Information:  Please support this one day annual seminar conveniently located near skiing and tourism opportunities.  If you would like to attend this event or receive the materials please email agassman@gassmanpa.com
BP APPELLATE & TRIAL JUDGE MATCHING OF INCOME & EXPENSE DECISIONS
Date: Thursday, November 14, 2013 | Two sessions to choose from: Breakfast 7:30 – 8:20 or dinner 6:00 – 6:50 p.m.
Location: Trenam Kemker, 101 E. Kennedy Blvd, Suite 2700, Tampa, FL 33602
Additional Information: To register for the breakfast session please click here.  To register for the dinner session please click here.
CREDITOR PROTECTION FOR FLORIDA PHYSICIANS & BP CLAIMS SEMINAR – SANDSPUR FICPA MONTHLY MEETING
Date: Monday, November 18, 2013 | 5:00 – 7:00 p.m.
Location: TGI Fridays, Fowler Avenue, Tampa, FL
Additional Information: If you are interested in attending this seminar please email agassman@gassmanpa.com
PLANNING WITH SELF-CANCELLING INSTALLMENT NOTES AND PRIVATE ANNUITIES: DON'T GET BURNED
Date:    Wednesday, November 20, 2013 | 12:30 pm – 2:00 pm
Speakers: Professor Jerry Hesch, Lawrence Katzenstein, Edward P. Wojnaroski, Alan S. Gassman and Kenneth J. Crotty
Additional Information: To register for this webinar please click here. If you would like to receive a copy of the materials for this webinar please email Janine Gunyan at janine@gassmanpa.com
ESTATE PLANNING COUNCIL OF MANATEE COUNTY SEMINAR
Alan Gassman will be speaking to the Estate Planning Council of Manatee County on "AN ESTATE AND TAX PLANNER'S YEAR END PLANNING CHECKLIST – PRACTICE SYSTEM STRATEGIES IDEAS AND TECHNIQUES".
Date: Thursday, November 21, 2013 | 12:00 p.m – 1:00 p.m.
Location: Bradenton County Club, 4646 9th Avenue W, Bradenton, FL34209
Additional Information:  To register for this event please visit the Estate Planning Council of Manatee County website at http://www.estateplanningcouncilofmanateecounty.org/events/event/10036
MEDICAL EDUCATION RESOURCES CONTINUING EDUCATION PRIMARY CARE CONFERENCE
Alan Gassman will be speaking on the topic of LEGAL, TAX AND FINANCIAL BOOT CAMP FOR THE MEDICAL PRACTICE – A SPECIAL TAX, ESTATE PLANNING AND LAW CONFERENCE FOR PHYSICIANS
Date: December 13, 2013 – 12:00 pm – 4:40 pm and December 14, 2013 8:00 am – 3:00 pm
Topics and Meeting Times:
Friday, December 13, 2013
12:00 – 1:00 pm –  2013 Tax Changes
1:00 – 2:00 pm – The 10 Biggest Mistakes that Physicians Make in their Investments and Business Planning
2:10 – 3:10 pm – Lawsuits 101
3:10 – 3:40 pm  – Essential Estate Planning
3:40 – 4:40 pm  – Deductions for Physicians
Saturday, December 14, 2013
8:00 – 9:00 am – Medical Practice Financial Management
9:00 – 10:00 am – Physician Compensation
10:10 – 11:10 am – Asset Entity Planning for Creditor Protection and Buy/Sell Arrangements
11:10 – 11:40 am – Tax Structures for Medical Practices
12:00 – 1:00 pm – 50 Ways to Leave Your Overhead
1:00 – 2:00 pm – Retirement Plan Options for Physicians
2:00 – 3:00 pm – Stark Naked or Well Prepared? (Please do not come to this session naked.)
Location:Grand Hyatt Tampa Bay, 2900 Bayport Drive, Tampa, Florida
Additional Information:  For more information please visit www.MER.org  Please note that the program qualifies for continuing education credit for physicians.
THE FLORIDA BAR – REPRESENTING THE PHYSICIAN
Date: Friday, January 17, 2013
Location:  The Peabody Hotel, Orlando, Florida
Additional Information: The annual Florida Bar conference entitled Representing the Physician is designed especially for health care, tax, and business lawyers, CPAs and physician office managers and physicians to cover practical legal, medical law, and tax planning matters that affect physicians and physician practices.
This year our 1 day seminar will be held in the Peabody Hotel near Walt Disney World, which is world famous for its daily "march of the ducks" through the lobby (wear easy to clean shoes) and maybe we will have peking duck for dinner.
A dinner for the Executive Committee of the Health Law Section of The Florida Bar and our speakers will be held on Thursday, January 16, 2013, whether formally or informally.  Anyone who would like to attend (dutch treat or bring wooden shoes) will be welcomed.  Your tax deductible hotel room to start a fantastic week near Disney, Universal, Sea World and, most importantly, Gatorland can include a room at the fantastic Peabody Hotel for a discounted rate per night, single occupancy.
1st ANNUAL ESTATE PLANNER'S DAY AT AVE MARIA SCHOOL OF LAW
Speakers: Speakers will include Professor Jerry Hesch, Jonathan Gopman, Alan Gassman and others.
Date: April 25, 2014
Location: Ave Maria School of Law, Naples, Florida
Sponsors:Ave Maria School of Law, Collier County Estate Planning Council and more to be announced.
Additional Information: For more information on this event please contact agassman@gassmanpa.com.
NOTABLE SEMINARS PRESENTED BY OTHERS:
48th ANNUAL HECKERLING INSTITUTE ON ESTATE PLANNING SEMINAR
Date: January 13 – 17, 2014
Location:  Orlando World Center Marriott, Orlando, Florida
Sponsor:University of Miami School of Law
Additional Information: For more information please visit: http://www.law.miami.edu/heckerling/
16th ANNUAL ALL CHILDREN'S HOSPITAL ESTATE, TAX, LEGAL & FINANCIAL PLANNING SEMINAR
Date: Wednesday, February 12, 2014
Location: All Children's Hospital Education and Conference Center, St. Petersburg, Florida with remote location live interactive viewings in Tampa, Sarasota, New Port Richey, Lakeland, and Bangkok, Thailand
Sponsor: All Children's Hospital
THE UNIVERSITY OF FLORIDA TAX INSTITUTE
Date: February 19 – 21, 2014
Location: Grand Hyatt, Tampa, Florida
Sponsor:  UF Law alumni and UF Graduate Tax Program
Additional Information:  Here is what UF is saying about the program on its website: "The UF Tax Institute will provide tax practitioners and other leading tax, business and estate planning professionals with a program that covers the most current issues and planning ideas with a practical, informative, state-of-the-art approach.  The Institute's schedule will devote separate days or half days to individual income tax issues, entity tax issues and estate planning issues.  Speakers and presentations will be announced as the program date nears to ensure coverage of the most timely and significant topics.  UF Law alumni have formed the Florida Tax Education Foundation, Inc., a nonprofit corporation, to organize the conference."