Thursday Report – November 28, 2013 – The Story of Thurs-giving-akkah and Tax, Law and Slaw
In honor of Thursday, Thanksgiving and Hanukkah we are calling this the

Thurs-giving-akkah

Edition! Please do not miss the story below!
Our Sincerest Thanks
The Menurkey and the History of Thanksgiving and Hanukkah Falling on the Same Day
Judge Barbier's Friday, November 22nd Decision on Causation
Phil Rarick's Informative Blog: Allocation of Wrongful Death Proceeds in Florida Probate
Thursday Report Greatest Hits and Index
It would be tacky to sell books in the Thursday Report so please do not click here unless you really, really, really want to buy a book.
We welcome contributions for future Thursday Report topics. If you are interested in making a contribution as a guest writer, please email Janine Gunyan at Janine@gassmanpa.com.
This report and other Thursday Reports can be found on our website at www.gassmanlaw.com.
As Thanksgiving draws near we'd like to take this opportunity to thank you – our dedicated Thursday Report readers for your support of our newsletter.  Without you and your kind words of encouragement we could not do what we do.  To say thanks we thought we would profile some of our readers who have taken the time to thank us:
Thank you for your insightful articles.  I appreciate your willingness to take the time and effort to educate the bar.  It takes real time and effort, and again, thank you so much.

 Hamden Baskin, III
Thank you for the service you provide to the members of the Bar and other professionals with your Thursday Reports and webinars. It is a good thing you are doing. Your way reminds me of what is meant by collegiality among professionals. Happy Thanksgiving to you and yours!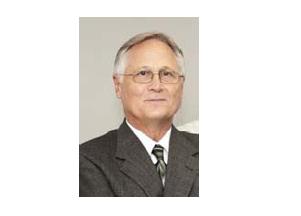 Howard C. Stross, JD/MBA
These are great to read.

 Chuck Wasson
I just wanted you to know that I have posted your picture on my bulletin board. I think I want to work in your office as you just have too much fun there.
The Menurkey and the History of Thanksgiving and Hanukkah Falling on the Same Day
by Alan S. Gassman and Janine M. Gunyan
The last time the first day of Hanukkah fell on Thanksgiving was in 1861, and the confusion was profound.  Many Jewish families got confused and served Kosher turkey on bagels with lox and cream cheese for 8 nights in a row, causing a run on pickled herring and lox that drove prices up like no bubble since the Holland Tulip bubble of 1624.  It is also no coincidence that the anniversary of Dr. Who, the renowned time traveler's 50th anniversary was celebrated on Monday evening.
The next time this phenomenon will happen will not be for another 77,798 years.  Statistically, the year should be 79,811.  That's a lot of Hanukkah dinners to sit through!
Cooking turkeys with menorah candles took a very long time.  The Pilgrim Synagogue was formed in Plymouth, Massachusetts in 1762 and they celebrated the first Thanksgiving in 1861, when they started to rent out the social hall to all descendants of Pilgrims and served Manischewitz wine and pickled herring all 8 nights, enabling them to retire their mortgage and expand the social hall to include a new sound system.  They also served turkey ball soup and kosher pickles.
The Indians also brought corn and gambling chips, and the Minister of the Plymouth Church brought a case of Wild Turkey whisky and several Hunter S Thompson books.  Everyone rolled around in the Indian's blankets and then went hunting for mashed potatoes and gravy, since this was before any Kentucky Fried Chicken's had been opened.  They ended up at the Capital Grille and feasted on the wagyu burger and glasses of 6 year old Silver Oak Cabernet Sauvignon for a mere 2.5 cents.  The children spun their grandpa's corn cob pipes and proclaimed, "We have our spinning corn cob pipes and whether I win or lose this really wipes!"
The children were disappointed to not receive gifts for 8 consecutive nights, but they did get silly gold coins with chocolate in them that they were able to trade for Gameboys and bows and arrows in the after Christmas sale.  By then the only turkeys available to eat had been shipped to Israel, and the Pilgrims began to write what would become Eric Clapton's Pilgrim solo album in 1998.  The original recording was all in Yiddish!
The Pilgrims and the Jews reflected on what a great holiday it was, and then played poker all night long on the 8th night because no one wanted to go home. That same night a group from the Plymouth Synagogue won the Power Ball lottery and purchased the exclusive rights to make all gambling chips out of potatoes and leased a building in Poughkeepsie to manufacture "chips out of potatoes" which didn't go over well.  Little did they know that only a few short years later, in 1853 that George Crum would invent the potato chip at Moon Lake Lodge resort in Saratoga Springs, New York.  The chips took a long time to make so they called them Delays Potato Chips and they were buy 1 get 1 free so no one ate just one.  But they didn't go over so well because of the matzo consistency.
Rabbi Arlo Guthriestein played his banjo and the song Alice's Restaurant which made the herring nostalgic for home.  The Rabbi was also hard of hearing which made everyone say "oy gevalt" which made their yamaka's spin.
The Rabbi's daughter, Gefilte, fell in love with the Indian Chief's son, Always Fish and they were married and her name became Gefilte Fish.  They tried to pickle a herring but he wouldn't fit in the jar because his wings were too wide.
The Rabbi took his canoe to the Island of Trid and walked up the hill to look for sacred water for the feast.  The Rabbi sent the Trid's up the hill to get the water but a mean dragon kept kicking them down.  Finally, the Rabbi, accompanied by a Pilgrim and an Indian, walked up the hill themselves and the dragon did not kick them.  "Oh dragon, did you not kick us because this is Thanksgiving and Hanukkah?"  "No," said the dragon, "Silly Rabbi, kicks are for trid's", and breakfast cereal was thus invented.
On the morning after the 8th evening everyone woke up in the Indian blankets, ate what remained of the chips, smoked all of the tobacco in the corn cob pipes, and proclaimed that someday, 152 years in the future, that there would be a Thursday Report and that their true story of the celebration of the first Thanksgiving/Hanukkah would be told in that Thursday Report, and that anyone who clicks here would be able to see Arlo Guthriestein's "Alice's Restaurant" story, which is highly recommended for people not busy texting their friends.
The "Menurkey"
With all the fuss about Thanksgiving and Hanukkah falling on the same day there have been many people coming up with slogans and merchandise about the two holidays.  Thanksanukkah, Hanugiving and Thanksgivingakkah are three very popular slogans that have been invented.  A Boston woman came up with the slogan "8 Days of Light, Liberty and Latkes."
The menurkey is another mash up invention.  It was invented by a 9 year old boy from New York, Asher Weintraub.  It is a menorah shaped like a turkey.  Asher posted his idea on kickstarter.com and raised $48,345 to fund his invention.  The family hopes to sell as many as 2,500 menurkeys ($50 for the plaster version and $150 for the ceramic – click here to visit the website and purchase yours!) They have even come up with a song to commemorate the event.  Click here to listen to the song.  We have a feeling that the after Christmas sale prices will be better or pretending to enjoy their relatives. 
Judge Barbier's Friday, November 22nd Decision on Causation – Taking the Lead out of BP's Gas
by John Goldsmith and Alan S. Gassman
Last Friday, November 22, 2013, Judge Barbier, in the BP Deepwater Horizon case, issued a significant ruling to dismantle BP's argument that each BP claimant must individually prove that the claimant's losses were caused by the BP oil spill.
After strongly supporting the BP settlement in 2012 that released it from punitive damages and required it to assume that economic losses were directly caused by the BP oil spill.
BP has spent millions of dollar on a media campaign to criticize claimants who are following the settlement agreement and no longer have the right to pursue punitive damages for the significant damage to our economy that was caused by the BP spill.
Judge Barbier flatly rejected BP's contention and attacked its positions as follows:
BP argues that the Settlement Agreement and Rule 23 require that only claims that are "traceable to the oil spill" be paid. Of course, the whole point of the class settlement was to resolve claims of persons who allege they have suffered economic losses attributable to the oil spill. But, in a class settlement, the parties agreed on an objective and specific method of proving whether or not a loss was caused by the oil spill. In the context of a class-wide settlement program, involving claims by tens of thousands of claimants, it would be infeasible to expect or require every claimant to prove actual, or factual, causation. Doing so would require thousands of individual trials of causation, defeating the whole purpose and intent of a class settlement.
Judge Barbier also attacked BP's argument that it did not agree to an objective formula to determine causation. The order points to an e-mail between the BP Claims Administrator and BP's lawyer with respect to the following example: a partner in a CPA firm was out on medical leave, and the only reason the firm suffered losses was due to the partner's absence, which was clearly not caused by the oil spill. BP's lawyer e-mailed in response:
"…extraneous non-financial data indicates that the decline was attributable to a factor wholly unrelated to the Oil Spill. Such "false positives" are an inevitable concomitant of an objective quantitative, data-based test."
Judge Barbier also quotes from BP's expert at the hearing approving the settlement:
"…all revenue and variable profit declines during the claimant selected compensation period are presumed to be caused by the spill, with no analysis required to determine whether the declines might have been due, at least in part, to other causes."
The Judge also pointed to an e-mail to all of the parties to the settlement on December 12, 2012, which states:
"Counsel for BP and the PSC [the Plaintiff's Steering Committee] agree with the Claims Administrator's objective analysis of causation with respect to his evaluation of economic damages Claims, as previously set forth by Mr. Juneau in paragraph 2 of his October 10, 2012 policy announcement."
Judge Barbier concludes his order by stating:
"In any event, the undersigned is certain that causation is not an issue before this Court, and will not consider any pleadings requesting that it be made a subject of re-evaluation."
BP immediately filed an emergency motion in the Fifth Circuit which viciously attacks the judge in an unprecedented way.
BP is fanning the flames on the fuel that it dumped into our Gulf of Mexico and ecosystem.
For more information regarding BP Claims please join John Goldsmith, Dean Kent and Alan Gassman in a 30 minute CLE and CPE qualified webinar on Monday, December 9, 2013 at either 12:30 p.m. or 5:00 p.m.  If you would like to attend the 12:30 p.m. webinar please click here and if you would like to attend the 5:00 p.m. webinar please click here.
 Thursday Report Greatest Hits
This week we are featuring some of the greatest Thursday Report hits from 2013.
Please click here to see the entire list of Thursday Report topics from 2013.
Phil Rarick's Informative Blog: Allocation of Wrongful Death Proceeds in Florida Probate
The personal representative has a duty to bring an action for the wrongful death of the decedent.  F.S. 768.20.  The Act provides for damages for the estate and "survivors."  To read more about this please click here.
Applicable Federal Rates
Below we have this month's, last month's, and the preceding month's Applicable Federal Rates, because for a sale, you can use the lowest of the 3.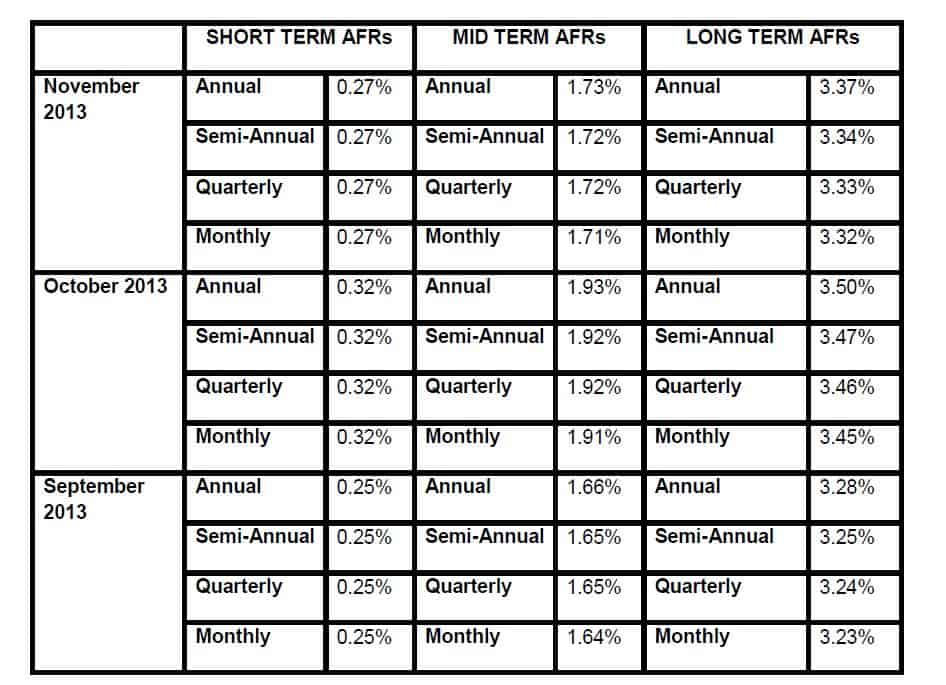 Seminars and Webinars
BP CLAIM INCOME AND DEDUCTION CORRELATION – WHERE ARE WE NOW?
The BP Federal hearing to determine what methods of matching income to expenses for BP claims is scheduled for December 2nd, and we expect that there will be valuable feedback, and possibly definitive guidance issued by the next week.  Please therefore, mark your calendars for 12:30 p.m. or 5pm on Monday, December 9th for a complimentary 30 minute webinar with John Goldsmith and Dean Kent of the Trenam Kemker law firm.
Date:  Monday, December 9, 2013 | Two Sessions: 12:30 p.m. or 5pm
Location: Online Webinar
Additional Information: To register for the 12:30 session please click here.  To register for the 5pm session please click here.
THE FLORIDA BAR – REPRESENTING THE PHYSICIAN
Date: Friday, January 17, 2013
Location:  The Hyatt Hotel, Orlando, Florida
Additional Information: The annual Florida Bar conference entitled Representing the Physician is designed especially for health care, tax, and business lawyers, CPAs and physician office managers and physicians to cover practical legal, medical law, and tax planning matters that affect physicians and physician practices.
This year our 1 day seminar will be held in the Hyatt Hotel near Walt Disney World.
A dinner for the Executive Committee of the Health Law Section of The Florida Bar and our speakers will be held on Thursday, January 16, 2013, whether formally or informally.  Anyone who would like to attend (dutch treat or bring wooden shoes) will be welcomed.  Your tax deductible hotel room to start a fantastic week near Disney, Universal, Sea World and most importantly Gatorland, can include a room at the fantastic Hyatt Hotel for a discounted rate per night, single occupancy.
FLORIDA BAR HEALTH LAW REVIEW 2014
Alan Gassman will be speaking on What Healthcare Lawyers Need to Know About Tax Law and Business Entities at this excellent annual Florida Bar conference that is attended not only for those who are taking the Board Certification exam but also healthcare lawyers and other advisors.
Other speakers will include Lester Perling who is the co-author of A Practical Guide to Kickback and Self-Referral Laws for Florida Physicians and a number of other books and publications.
Date:    March 7 – 8, 2014
Location: Hyatt, Orlando, Florida
Additional Information: We thank Jodi Laurence for all of her hard work in making this conference as successful as it is.  For more information please contact Jodi at jl@flhealthlaw.com.
1st ANNUAL ESTATE PLANNER'S DAY AT AVE MARIA SCHOOL OF LAW
Speakers: Speakers will include Professor Jerry Hesch, Jonathan Gopman, Alan Gassman and others.
Date: April 25, 2014
Location: Ave Maria School of Law, Naples, Florida
Sponsors:AveMariaSchool of Law, Collier County Estate Planning Council and more to be announced.
Additional Information: For more information on this event please contact agassman@gassmanpa.com.
NOTABLE SEMINARS PRESENTED BY OTHERS:
48th ANNUAL HECKERLING INSTITUTE ON ESTATE PLANNING SEMINAR
Date: January 13 – 17, 2014
Location:  OrlandoWorldCenter Marriott, Orlando, Florida
Sponsor:University of MiamiSchool of Law
Additional Information: For more information please visit: http://www.law.miami.edu/heckerling/
16th ANNUAL ALL CHILDREN'S HOSPITAL ESTATE, TAX, LEGAL & FINANCIAL PLANNING SEMINAR
Date: Wednesday, February 12, 2014
Location: All Children's Hospital Education and ConferenceCenter, St. Petersburg, Florida with remote location live interactive viewings in Tampa, Sarasota, New Port Richey, Lakeland, and Bangkok, Thailand
Sponsor: All Children's Hospital
THE UNIVERSITY OF FLORIDA TAX INSTITUTE
Date: February 19 – 21, 2014
Location: Grand Hyatt, Tampa, Florida
Presenters:  Martin McMahon, Jr., C. Wells Hall, III, Abraham N.M. Shashy, Karen L. Hawkins, Lawrence Lokken, Stephen F. Gertzman, James B. Sowell, John J. Rooney, Louis Weller, Ronald Aucutt, Karen Gilbreath Sowell, Herbert N. Beller, Peter J. Genz, Stephan R. Leimberg, John J. Scroggin, Lauren Y. Detzel, David Pratt and Samuel A. Donaldson
Sponsor:  UF Law alumni and UF Graduate Tax Program
Additional Information:  Here is what UF is saying about the program on its website: "The UF Tax Institute will provide tax practitioners and other leading tax, business and estate planning professionals with a program that covers the most current issues and planning ideas with a practical, informative, state-of-the-art approach.  The Institute's schedule will devote separate days or half days to individual income tax issues, entity tax issues and estate planning issues.  Speakers and presentations will be announced as the program date nears to ensure coverage of the most timely and significant topics.  UF Law alumni have formed the Florida Tax Education Foundation, Inc., a nonprofit corporation, to organize the conference."